Hello blogiverse. I am going to re-direct my book-reviewing soapbox for just a moment here and share some thoughts on a topic that only tangentially aligns with books. Firstly, a hat-tip to Alyssa at Think Progress for finally catalyzing me to share my spock-aspirations with y'all, in Action Princesses and Making the Hero's Journey Available to Everyone | ThinkProgress.
Why so much emphasis on "girls need female role-models"?
Don't get me wrong: as a female reader I've always enjoyed encountering a female character who carries out her/my goals with larger-than-life success. No question, that's excellent.
But, seriously: is there a species-wide gender-restriction on aspirations? I must not have gotten the memo. "Despite" the dearth of female characters, when I was ten years old I loved watching re-runs of the original Star Trek say 1979. Gender ratios not unlike undergraduate Computer Science at MIT, come to think of it. But anyhow, I looked at all the characters there and decided that… I wanted to be Spock. Why not Uhura – she's female, right? Well, kudos for getting a spot on the bridge, but simply reporting what others say… boooo-ring.  Being a nurse? Meh, not my thing. I grabbed onto the idea of being able to lay the facts and logic out there, raise an eyebrow, and 'poof' the indisputable truth of one's statements just kicks ass. (Yah, no, I know logic doesn't win that way IRL all the time. That doesn't stop me from trying 🙂 )
Be Scotty, Be Janeway
So, perhaps what parents, teachers, and mentors should be doing is: ditch the gender-categories in the lists and promote all the  role models for everyone. Encourage your little boy to be a starship captain: just like Kathryn Janeway. Cheer for your little girl to be an engineer like Scotty. Of course it's possible.
[update] – I forgot to hat-tip the following blog article that I read during my multi-month think-period leading to this post.  In "I never wanted to be a boy" Culturally Disoriented pays tribute to many (female) writers who provide strong (female) role models.  I agree, there is lots to enjoy in those books – I love those authors.   But still, don't limit your aspirations to what others have already accomplished. Practice your "warrior" fighting!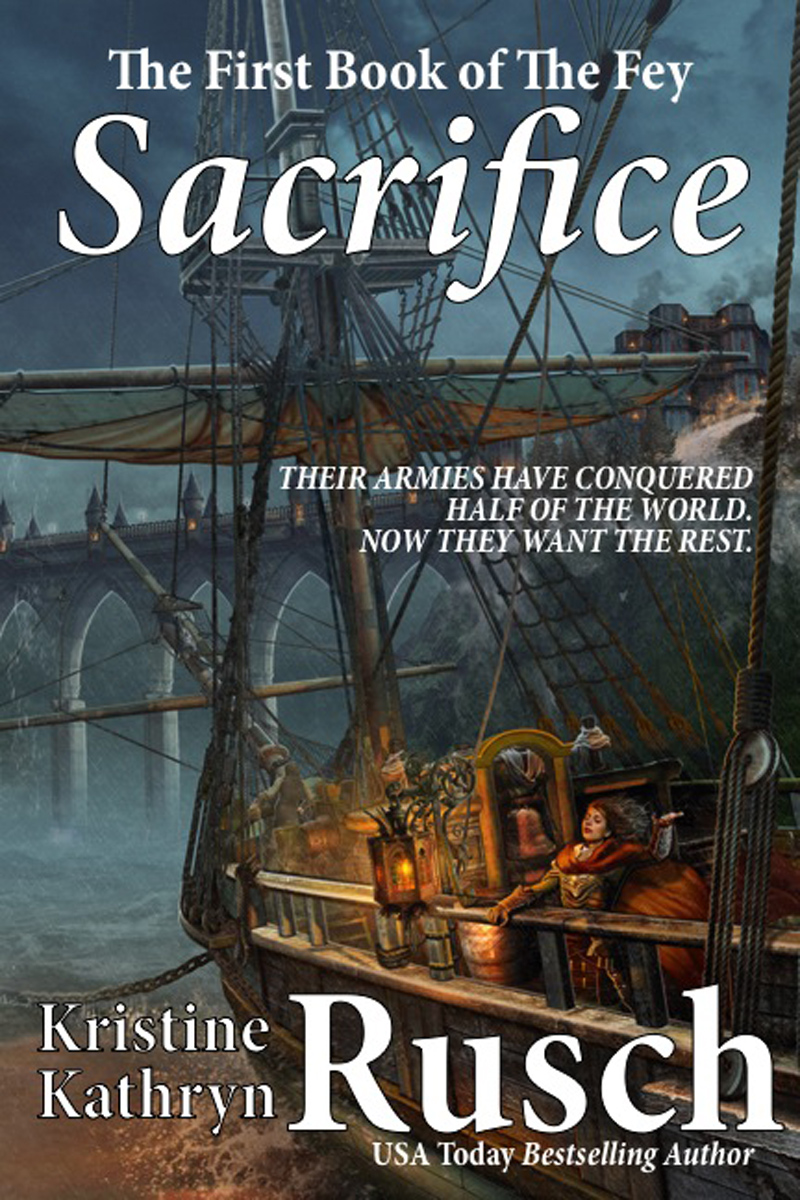 Worth looking for.
Stars: Three and three quarters out of five.
Review format:
Note plus links.
Summary
: Their armies have conquered half the world. Now they want the rest.
The Fey, known for their beauty and their warrior magic, have set their sights on Blue Isle. They should conquer the Isle quickly; its people, simple and religious, have never known war.
On the eve of the invasion, Jewel, the granddaughter of the Fey's all-powerful Black King, has a frightening vision, one that ties her fate to the Isle forever. Still, she helps her father Rugar head the invasion force.
The force meets a surprising resistance. Nicholas, heir to Blue Isle's throne, has always dreamed of battle. Normally, he would be no match for the powerful Fey. But Blue Isle has a secret weapon—a weapon no one understands, a weapon that could stop the Fey in their tracks.
Nicholas must find a way to harness this amazing power. Jewel must find a way to thwart him. To survive… what will happen? (quoted from publisher's description online)
Provenance
: Purchased
ebook online
.
Sacrifice – Kristine Kathryn Rusch: This is the first all-out fantasy I've read by Ms. Rusch, and it does not disappoint.
The narrative switches from one limited-first-person to the other.  At first I expected to follow Jewel extremely closely, but then I got more comfortable as the point of view spent almost equal time with Nicholas.  I very much enjoyed the twist on the usual trope of 'the Fey.' Here they are warlike and steadily conquering everything within their reach. Not at all wispy and ethereal 🙂  Hmm, Romulans?
The only hold-back from four stars is that I felt the pace slowed a little more than I wanted, as the important characters seemed to reach their intended locations for the end of this book. But, they're set for act two now, and I am looking forward to learning what's next.
Hooray for completed series!  I can read the whole thing as soon as I like, and I certainly will get going soon.
Linkage and spoilerly comments below
Fun splashing, but same old ocean.
Stars: Three of five.
Review format:
Comment plus links.
Summary
:   Meet twenty-two-year-old Cherry Pye (née Cheryl Bunterman), a pop star since she was fourteen—and about to attempt a comeback from her latest drug-and-alcohol disaster.  Now meet Cherry again: in the person of her "undercover stunt double," Ann DeLusia. Ann portrays Cherry whenever the singer is too "indisposed"—meaning wasted—to go out in public. And it is Ann-mistaken-for-Cherry who is kidnapped from a South Beach hotel by obsessed paparazzo Bang Abbott.Now the challenge for Cherry's handlers (über–stage mother; horndog record producer; nipped, tucked, and Botoxed twin publicists; weed whacker–wielding bodyguard) is to rescue Ann while keeping her existence a secret from Cherry's public—and from Cherry herself.
The situation is more complicated than they know. Ann has had a bewitching encounter with Skink—the unhinged former governor of Florida living wild in a mangrove swamp—and now he's heading for Miami to find her . . .
Will Bang Abbott achieve his fantasy of a lucrative private photo session with Cherry Pye? Will Cherry sober up in time to lip-synch her way through her concert tour? Will Skink track down Ann DeLusia before Cherry's motley posse does?
All will be revealed in this hilarious spin on life in the celebrity fast lane. (from goodreads)
Provenance
: My bookshelf, family purchase…  Date Read: June 2012 
I needed something new to read, and lookit: a new-to-me Carl Hiassen book sitting in the basement.  It delivers what I have come to expect – protagonists of spunky run-down investigative male and feisty and hot female on a mission; Skink, calls to conserve not pave-over the environment, grotesque bad guys, grisly ends for some bad guys.  A little bit forgettable, but perhaps that's because I feel like it's a Hiassen formula.
Many of the supporting characters are standouts from previous books – notably Skink and the bad-guy with the weed-whacker hand.  It's nice to see them return, but it's also a short-cut instead of introducing amazing new characters.  The botoxed-scultped-identical fraternal twin sister publicists: they were new and funny.  Cherry's parents? Reminded me a little too much of Elizabeth Bennett's parents in Pride and Prejudice, though Pa Bunterman is not quite as cool as Mr. Bennett.
In summary:
If you've liked other Hiaasen books, then expect some enjoyable but very-slightly-stale more of the same.
If you've disliked other Hiaasen books, then this is not the book to convince you otherwise.
I think Double Whammy is my favourite of his books. Not that I'll go re-read it right now, but it was more zingy and edgy.
Links and others' reviews