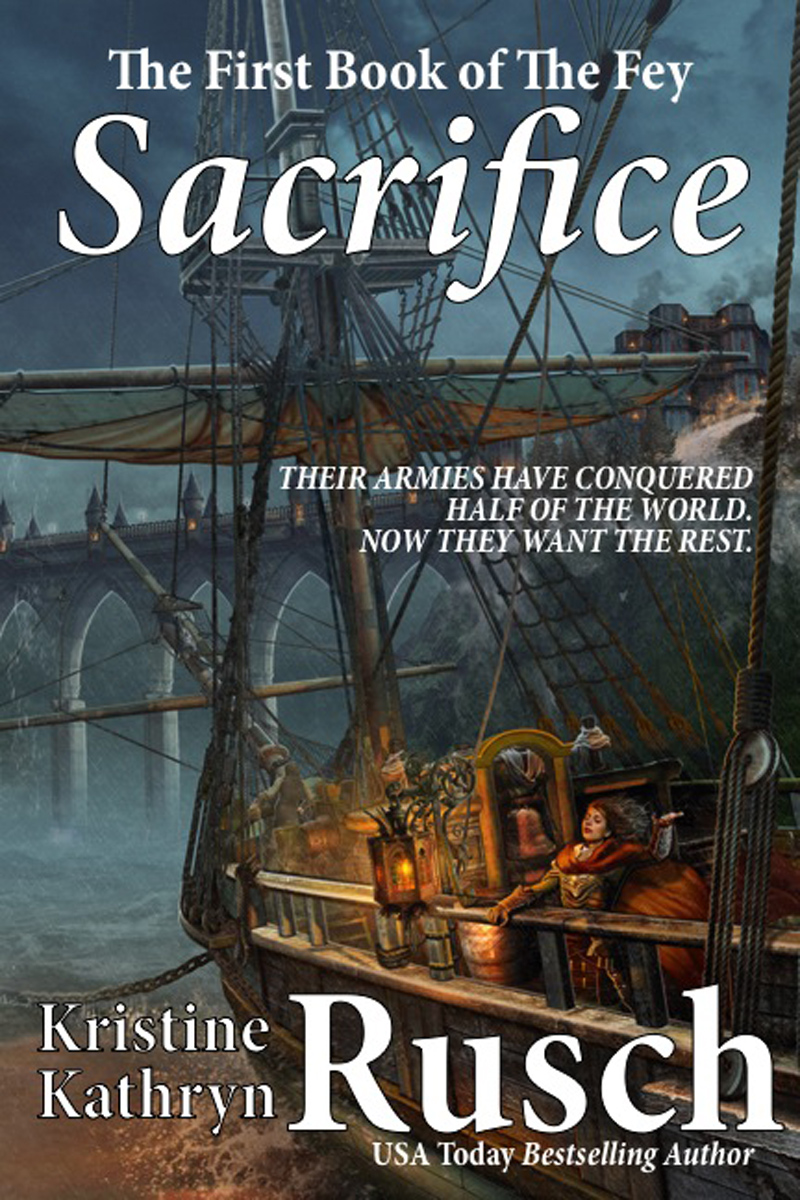 Worth looking for.
Stars: Three and three quarters out of five.
Review format:
Note plus links.
Summary
: Their armies have conquered half the world. Now they want the rest.
The Fey, known for their beauty and their warrior magic, have set their sights on Blue Isle. They should conquer the Isle quickly; its people, simple and religious, have never known war.
On the eve of the invasion, Jewel, the granddaughter of the Fey's all-powerful Black King, has a frightening vision, one that ties her fate to the Isle forever. Still, she helps her father Rugar head the invasion force.
The force meets a surprising resistance. Nicholas, heir to Blue Isle's throne, has always dreamed of battle. Normally, he would be no match for the powerful Fey. But Blue Isle has a secret weapon—a weapon no one understands, a weapon that could stop the Fey in their tracks.
Nicholas must find a way to harness this amazing power. Jewel must find a way to thwart him. To survive… what will happen? (quoted from publisher's description online)
Provenance
: Purchased
ebook online
.
Sacrifice – Kristine Kathryn Rusch: This is the first all-out fantasy I've read by Ms. Rusch, and it does not disappoint.
The narrative switches from one limited-first-person to the other.  At first I expected to follow Jewel extremely closely, but then I got more comfortable as the point of view spent almost equal time with Nicholas.  I very much enjoyed the twist on the usual trope of 'the Fey.' Here they are warlike and steadily conquering everything within their reach. Not at all wispy and ethereal 🙂  Hmm, Romulans?
The only hold-back from four stars is that I felt the pace slowed a little more than I wanted, as the important characters seemed to reach their intended locations for the end of this book. But, they're set for act two now, and I am looking forward to learning what's next.
Hooray for completed series!  I can read the whole thing as soon as I like, and I certainly will get going soon.
Linkage and spoilerly comments below
Links and couldn't find other reviews   (added by me, not generated)
Quibbles (including some spoilers)
Nicholas and Alexander – this might be just me, but I sometimes confused them from within their points of view. Sometimes Alexander-the-king "felt" as young as his son; while Nicholas matured quickly yet plausibly to someone ready to rule. And – both are 'Tsar' names, so that blurs the distinction a little 😦
The end for the head priest was certainly foreshadowed effectively, to the point of feeling a bit predestined, but I expected a bit more immediate dramatic fallout right then. I still have faith that big things will come of it, but within the scope of this book, that story line was like an orchestra building to a crescendo up, and up, and up, and: pause on a quiet minor chord. Not a blast of trumpets and cymbals resolving the tension. Wow, that was a long sentence, sorry. 😉
Hmm. The title? Seems grafted on. I don't like it.
Things I liked 
The Fey names are great. A mixture of alien-sounding names such as Rugar, and unexpected nouns like Burden and Jewel.
The Fey magic is really nicely apportioned, and the anti-Red Cap prejudices are just excellent!
Red Caps – first described from others' points of view, and you're set up to expect that they are terrible and gruesome (and shrunken and ugly). But in fact, they hate their assigned role most because they have to do the gruesome work. And, they're more like human-sized rather than extra-tall and elongated.
—.~.~.~.—
Shall I link to your review? Let me know in a comment or contact, and I can add the link here.