Posts Tagged steampunk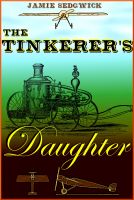 Steam-elf? No punk edge, but still fun.
The Tinkerer's Daughter by Jamie Sedgwick.
Stars
:
Three
of five.
Cover summary
: Breeze is an outcast, a half-breed orphan in a world devastated by 1,000 years of war. She never knew her elven mother. Her father leaves her in the care of a reclusive Tinker, with her true identity safely hidden. Then the war comes and Breeze is exposed. If she has the courage, Breeze has a chance to change the world. If she fails, she'll be hunted to her death as a traitor. (from
smashwords.com
)
Provenance
: review requested by author, but I bought my own copy via smashwords.com
The Tinkerer's Daughter is an above-average novel with an engaging main character and fast-paced narrative.  The world-building is kept mostly unobtrusive, but it does depend on the reader's knowledge of elves to fill in some gaps.  The setting includes inventions of steam-powered vehicles by the Tinkerer, without all-out characteristics of steampunk.  As a food item, I would describe it as fresh popcorn – tasty and not unhealthy, but not a meal.
The main character, Breeze, was the highlight of this book.  Her narrative point of view is enjoyable and easy to read.  The book launches with a tiny bit of background, explaining the racial tensions between humans and elves and also explaining that Breeze is young but will mature very quickly to her adult size.  The triggering event for the novel is her father's departure to join the war.  As soon as Breeze is fostered off with the Tinkerer, the plot revs up and Breeze is swept up into large-scale action for the rest of the book.  I was definitely drawn in to the story.